Product
Connection for Better Images and Vision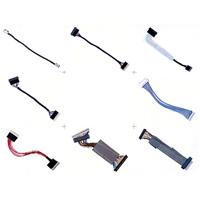 Flexible Flat Cable
Product ID: 02
Telecomps Technology manufactures the highest quality flexible flat cable (FFC cable) and flat cable in standard or custom orders. Telecomps has experienced to export its flexible flat cables to many countries in the world. The company has all necessary facilities and equipment for production, inspection and test for their cable assemblies.
With powerful R & D capability and unexceptionable technology, Telecomps can develop and supply flexible flat cables (FFC cables) to meet the specific requirements for their customers. Telecomps is considered to be a worldwide leader in the providing and processing of flexible flat cable. Telecomps will offer their customer with a level of quality and service well beyond traditional expectations.
Specifications:
Stripped Coaxial Cable andCrimped Coaxial Cable Automatic Cutting & Stripping Machine
Products Advantages
Consistent Quality: Steady and ReliableHigh Quality Of Yield Rate 98%
Powerful Tension connection: withmin. 0.35Kg per Crimping On Individual Coaxial Wire beforedisconnection.
No Breakage Occurred due to Tension and BendingForce.
Approved more than Qualified EMI Performance by Most LocalNotebook Computers Manufacturers.
Available for any Crimping types ofconnectors connect to LCD Panel AND Mother Board.
Feasible for Automatic Massive Prodcution assure the High Productivity
AndConsistence of Reliable Quality.
Structure of Coaxial Cable Assembly

Coaxial Cable: AWG#36 with following specifications:

Temperature Rating: 90°C
Conductor Resistance (20°C): Max. 1900 Ohm/Km
Insulation Resistance: Min. 10000M Ohm/Km
Characteristics Impedance: Nom. 50Ohm
Capacitance (1 KHz): Nom. 97 Pf/m
Features:
Composite Structure:

One(1) Pair of #1571 standard wires of AWG#28 for Vcc.
Four(4) Pairs of Coaxial Cables of AWG#36 of transmitting R/G/B/CLK Signal respectively
Two(2) plus Four (4) # 1571 standard wires of AWG#28 for Grounding.
All the shielding o Stripped Coaxial Cable shall be solder-welded together by Ground Bar with mentioned Grounding Wires for Common Grounding.
No Conductive Tapes and Cores and other EMC Materials is necessary to reach the requested standard level, 3-4 dBunder EMI standard.
Strong Connection Force prevents the breakage on conductor and break-off terminals against connector.

Key Manufacturing Process

Auto Cut-to-Length & Stripping:
After complete the necessary pre-setting according to customer's specifications, The machine shall automatically achieve the cutting and stripping function on insulation layers and shielding mesh at productivity of 10,000 sets of coaxial cable assembly/one machine per month, prepared for finished products.
Semi-Auto Crimping:
Crimping the adequate terminals onto the both ends of coaxial cables in correspondent to designed connector At the productivity of 10,000 sets of cable assembly per Machine per month.
Insertion of Terminals into Connector:
By simple manual operation.
Primary Conduction Test:
Full Volume Inspection completed by manual operation

Visual Inspection on any possible damage on wires, terminals and connectors.
With Conduction Testing Instrument to assure all the Pin Assignment is correct and with good Conductive Function.

Algnment and Packaging on Cable Assembly:
By manual operation.
Solder-Welding with Ground Bar:
All the shielding of Stripped Coaxial Cable shall be solder-Welded together by Ground Bar with mentioned Grounding Wires for Common Grounding.
Final Quality Inspection:
Complete the final inspection and conduction test with same Procedure as mentioned in clause (4), (4-1) and (4-2) with Much precise testing instrument.

Customer's Satisfaction on Reliable Quality, Productivity, Cost Deduction And Punctural Delivery are firmly assured by TELECOMPS Precise Automation Technology
Competence Advantages of TELECOMPS

Reliable and Experienced in Manufacturing Various Wire Harness and Varieties of Automatic Wire (Cable) Processing Machinery for more than 16 years.
Advanced Processing Technology and Automation Development Provide The Warranty on Quality Consistence and Sufficient Supply Capability.
Expertise on Coaxial Cable Assembly for Notebook Computer and LCD Monitor.
Further Automation Development will Result Cost Deduction to match Customer's Interest and Benefits.
Contact Detail
| | |
| --- | --- |
| Address: | 2Fl., No.6, Lane 88, Huanhe St., Xizhi District, New Taipei City 221, Taiwan |
| TEL: | 886-2-2694-7297 |
| FAX: | 886-2-2694-7267 |
| Email: | lu@cableassembly.com.tw |
| URL: | |
| ZIP: | 221 |